The Quest for a Solid Night's Sleep: Is an Idle Mattress Right for You?
As a participant in the Amazon Services LLC Associates Program, this site may earn from qualifying purchases. We may also earn commissions on purchases from other retail websites.
Do you struggle to get a good night of sleep? Lacking sleep can not only ruin your day, but it could affect your mental and physical health. And who wants that? Luckily, there are solutions to the problem, and it could be your mattress needs a replacement. Have you heard of the Idle Mattress?
Idle mattresses offer many of the same features as the competition. But their unique design allows you to switch between a medium and a firm side.
The truth is, this mattress could be exactly what you're looking for to spend some quality time in dreamland.
What Is the Idle Mattress?
Idle Sleep created a flexible mattress so that you can choose the firmness that works best for you. While most mattresses have one firmness, one side of Idle is medium-firm while the other is firm.
The mattress offers the same support as other mattresses, no matter which side you choose.
Having a flexible mattress can come in handy as your sleep habits change. That way, you don't have to buy a new mattress just because you no longer like how firm your current one is. It's a great option for individuals or couples who need something supportive.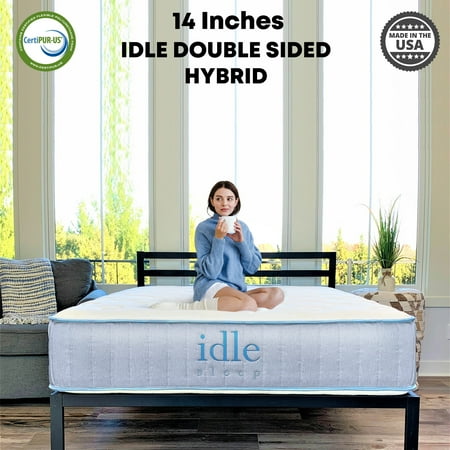 Get the IDLE 14-inch Hybrid Mattress from Walmart.com
Materials and construction
When looking at a mattress, you should consider the materials the manufacturer uses and its overall construction. The mattress has different materials across a few layers to provide support and comfort.
On the outside, there's a thermocool fabric that keeps you from overheating while you sleep. This is great if you live somewhere warm but also if you tend to sweat at night.
Both sides of the mattress have a comfort layer that uses contouring foam and buoyancy foam. The mattress also features a transition layer with a polyfoam.
In the middle of the bed, you will find pocketed coils. These coils are individual so that they can reduce noise and motion transfer.
Size matters
Another important factor when buying the best mattress for you is how big it is and how much it costs. As with other mattresses, the Idle Mattress comes in sizes twin through California king.
The twin mattress measures 74 by 38 by 14 inches. It weighs about 85 pounds once you assemble it.
A full mattress is 74 by 54 by 14 inches and weighs 100 pounds. Meanwhile, the Idle queen mattress is about 80 by 60 by 14 inches and weighs 112 pounds.
The standard king mattress weighs about 145 pounds and measures 80 by 76 by 14 inches. Finally, the California king measures 84 by 72 by 14 inches and weighs 145 pounds.
Exact pricing varies based on the mattress size you choose. However, Idle mattresses are generally more expensive than the competition due to their thicker design and materials.
Who it's for
Because you can choose from different sizes, the Idle Mattress is excellent for the whole family. You can get it for yourself, and your spouse, your kids, or you can put it in a guest room.
Then, you can set up the best size for your guests before they visit.
The medium side is perfect for side sleepers and back sleepers, but it's not as great for stomach sleepers. On the other hand, the firm side is great for stomach sleepers and back sleepers. But it's okay for side sleepers too.
If you need a new mattress but can't go out shopping for one, you can order the Idle mattress. Then, you can try out both sides to see which you like better.
Where to buy an Idle Sleep Mattress
You can buy the Idle Sleep Mattress online. Idle Sleep sells the mattress on its website so that you can buy directly from the company.
But you can also buy the mattress from retailers such as Walmart and Amazon. Then, you can shop around for deals and see if there's a sale at one store or another.
No products found.
No products found.
You can also buy the mattress in select stores across the country if you live in or near:
Boise, ID
Kennesaw, GA
Cleveland, OH
Strongsville, OH
Some stores throughout Michigan also sell the Idle Mattress in person, so you can shop there. But for most people, ordering online is the best option.
White-glove delivery
One option to consider when ordering an Idle mattress is if you want white glove delivery. With this service, you can have someone else handle getting the mattress into your home and setting it up.
White glove delivery will cost quite a bit more, but it can be great if you don't want to deal with a lot of weight. Then, you can still sleep on your mattress the first night, and you can also save time.
However, white glove delivery is non-refundable. It can also lengthen the shipping time.
Sleep trial
Another excellent reason to check out Idle is that it offers an extended sleep trial. You can try your new mattress for up to 18 months, so you can make sure you feel comfortable and can get good sleep.
You'll have plenty of time to experiment with both sides of the mattress, so you can see if you prefer one over the other. While a lot of people end up keeping the mattress, you can return it for a refund on your purchase.
If you've never bought a mattress online, doing so can be scary. However, the long trial period can give you some peace of mind on your purchase.
Mattress warranty
If you decide to keep the mattress, you can also benefit from a lifetime warranty. Idle will fix any issues that happen because of manufacturing errors or material problems. And if they can't fix the problem, they'll replace your mattress.
You can also use the warranty if body impressions over half an inch damage your mattress. Then, you can get a new mattress to sleep on.
However, make sure you use a suitable base. If you don't, you can void the warranty and then be responsible for repairing or replacing your mattress.
Pros
Now that you know the basics of what Idle mattresses can offer, you should consider some of the benefits. Then, you can make sure the bed is right for you.
Consider a few advantages of the Idle Mattress.
Two sides
If you aren't sure how firm you want your mattress to be, Idle gives you options. You can use the right side based on the firmness you want, so you can get comfortable while you sleep.
And if you later decide you don't like the firmness, you can keep your same mattress. While the mattress can be heavy, you can flip it over and keep using it, saving you time and money.
Having two options is also helpful since you may not be able to try the mattress before you buy it. If you're picky about your mattress, you can increase your chances of success when you have multiple thicknesses available.
The mattress is also great if multiple people will use it, such as guests. Then, you can make sure people can be comfortable when they stay with you.
Many sizes
Of course, another reason to get a mattress from Idle is that you can choose the right size. Whether you want the bed for yourself and your spouse or for one of your kids, you can get it.
And if others in the family like the mattress, you can get the size that fits their current bed. You won't have to worry about finding a similar mattress just to get the correct size.
Easy delivery
Whether or not you opt for white glove delivery, you can get this mattress to your door. If you choose white glove delivery, you won't have to take the mattress to your room and unbox it.
Instead, you can focus on other things, which can come in handy when moving or if you're busy with work. You can sit by as someone else puts everything together for you.
But if you don't want to get white glove delivery, it will still be easy. The mattress comes in a box, so it can be easier to get it to your bedroom. Then, you can open the box and let the mattress expand before you go to bed.
You don't have to worry about picking the mattress up or needing a large truck to tow it.
Cons
While Idle mattresses have a lot of benefits, they aren't perfect. Before you splurge on a new bed, you should determine if it's worth it for your needs.
Here are a couple of disadvantages with Idle.
Expensive
If you know what firmness you like in a mattress, getting the two sides may be a waste of money. Because of the added flexibility, Idle mattresses cost more than many competing brands.
That can be a problem if you're on a budget or if you need to buy multiple mattresses at once. While there are more expensive mattresses on the market, not everyone can justify the cost of Idle.
If you need both sides, the extra cost may be worth it. But the expense can turn away a lot of people.
Weight
Another con of Idle mattresses is that they can be heavy.
If you want to enjoy both sides of the mattress, you need to deal with the weight each time you switch the sides. That may be okay if you're strong. But if you have arthritis or are otherwise not super strong, it can be a struggle.
Not to mention that moving the mattress a lot can also be difficult due to the bulk. Mattresses can be awkward, so consider if it's worth that for switching between the two sides.
In some cases, you may want to choose one side and get a mattress pad to soften the mattress when necessary. Then, you can save a lot of time and frustration.
Idle Mattress FAQs
Do you still have questions about the Idle Mattress? Here are a few common questions with their answers.
How to tell the medium from the firm side of an Idle Sleep mattress
The medium side will feel softer and have some more give. It may feel like a soft pillow, though it won't feel as soft as a soft mattress. Meanwhile, the firm side will be more responsive than the medium side. It may also feel harder.
Either way, don't be afraid to flip the mattress if you don't feel comfortable. You don't have to stick with your typical firmness when getting a new mattress. Do what works for you.
Can you finance the Idle mattress?
If you buy through the Idle Sleep website, you can finance the mattress. You can choose between 12-month and 60-month financing options, so you can select which works for your budget.
If you buy from another retailer, you will need to check with that store about financing. Some stores may offer similar financing programs, while others will charge the full amount.
Idle Mattress: Sleep On It
If you want to get a new bed, consider buying an Idle mattress. It offers two firmnesses, so you can choose the side that helps you sleep the best.
And you can try out the mattress for well over a year and still get a refund if you don't like it. Whether you want a new bed for yourself or a family member, give Idle a try. It may be the bed of your dreams.
Last update on 2023-06-09 at 15:12 / Affiliate links / Images from Amazon Product Advertising API