As a participant in the Amazon Services LLC Associates Program, this site may earn from qualifying purchases. We may also earn commissions on purchases from other retail websites.
Bed shopping is intimidating. You have a wide range of options and many competing opinions about which bed is best. Usually, it comes down to personal preference and your own specific needs.
There is some good advice and some well-known facts involving which beds work the best for different body types or sleeping positions. However, it all comes down to the consumer.
Hybrid mattresses have taken consumers by storm. If you have been thinking about changing your mattress, then you've probably already heard of them. While most of us know that hybrid means the combination of two or more things, how this applies to mattresses might be confusing at first.
Hybrid mattresses have a lot of hype in the market right now; this review will tell you what you need to know about them.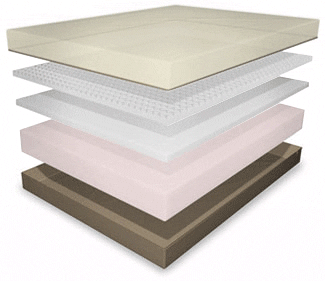 Hybrid mattresses are one of the latest trends to hit the mattress market. They have an innerspring coil support core and a latex foam layer, allowing you to have a blended experience of soft memory foam and the bounciness of a spring bed.What Is a Hybrid Mattress?
When it comes to sleep technology, you will find most of these types of beds rate highly. The point of the hybrid mattress is to be more comfortable. It's supposed to give you a better night's sleep and to allow you to feel comfortable, no matter what you're doing.
However, when it comes to bed comfort, how you feel in the moment is not the only thing that matters.A bed needs to be supportive. While a bed might be comfortable for a few nights, if you're sleeping on an unsupportive mattress, you're going to start feeling it relatively quickly.
It usually manifests in an aching back, sore limbs or a permanently stiff neck. Hybrid mattresses seek to be comfortable and supportive.
Now, despite the standards being the same for a hybrid mattress, they aren't all the same. Like any mattress type, you'll find a variety of materials and types on display for each type. If you know that a hybrid mattress is one that you're interested in, you still might not have a good idea about what to look for when shopping.
Hybrid Mattress Specifications
Hybrid mattresses have to follow up with several specifications to be a true hybrid mattress. Some companies may call their mattresses hybrids for marketing purposes but are not true hybrids. Keep this in mind while you shop.
Every hybrid mattress is going to have a coil support core, where a lot of your bed's height is going to come from. The core is approximately 6 to 7 inches.
Pocketed coil designs are going to give you better support and equally going to help lessen the motion transfer. Under the support core, you're going to have the base foam later.
This is there so that you can stabilize the mattress and give extra padding. Normally, manufacturers use polyurethane foam. The comfort layer comes next. Manufacturers develop the comfort layer out of memory foam or latex.
Sometimes the comfort layer will even include gel or copper elements. These elements help cool down the mattress during use.Manufacturers may also include pillow tops in the comfort layer.
The reason that it's called a pillow top is that it is sewn above the comfort layer with a gap in between. This gives the appearance of a pillow on top of the mattress. There are also Euro tops.
A Euro top is different from a pillow top because it is sewn in with the comfort layer. These layers may use polyfoam, cotton, wool, memory foam, latex foam or fiberfill.
Indentation Load Deflection
Indentation load deflection or ILD is the measurement of how firm your mattress is. If your ILD is higher, this means that your bed is going to be firmer. This also directly impacts how much contour you will experience.
A higher firmness means less contour. How you measure your firmness is going to depend on whether you have memory foam or latex. The memory foam rating ranges from eight to 20. On the other hand, if you are using latex, the firmness rating is between 15 and 40.
Coil Count
The reason you want to know a little about the coil count is that it can affect the longevity of your mattress. The beds with lower coil counts tend not to last as long. Keep in mind, though, that after a certain point, a higher count may not mean a longer lasting bed. If it's past 1,000, you probably won't get any more durability.
Density
The density measures the amount of compression that your mattress can take while remaining supportive. Its unit of measurement is pounds per cubic foot. If the foam has a high density, it is going to give you great motion isolation and contour.
However, it will take it longer to return to its shape. If it has a low density, then it's going to recover its form fast, but it isn't going to have as good of motion isolation and contour. As you can guess, medium density is in between those two.
On the low end, memory foam ranges from 2.5 pounds to 3.5 pounds per cubic foot and 5.5 pounds per cubic foot when it comes to higher density beds. If you get polyfoam instead, then you're looking at below 1.9 pounds per cubic foot to 2.5 pounds per cubic foot.
Gauge
Gauge has to do with the pocketed coils and their thickness. Remember, these are what are inside your bed's support core. One thing to keep in mind when measuring gauge is that a higher number means a thinner coil.
Pricing
When it comes to the average price of hybrid mattresses, they run higher than an innerspring mattress.
Hybrid Mattress Comparisons
Helix Hybrid Mattress
No products found.
No products found.
| | Ease of Use | Build Quality | Warranty |
| --- | --- | --- | --- |
| | | | |
| | The bed has an easy setup. With thorough instructions, you can set up the bed in a matter of four steps that only take about three minutes to finish. | The Helix bed is customizable. They construct the beds individually with high-quality materials and high-grade construction. | Helix offers a 10-year warranty alongside a 100-night sleep trial. It can take time to figure out if you like a mattress. A few nights are not usually enough to be a fair judge. Therefore, on top of the warranty, you can try it 100 days without worry and with a full refund if you don't like it. |
Purple Mattress
No products found.
No products found.
| | Ease of Use | Build Quality | Warranty |
| --- | --- | --- | --- |
| | | | |
| | The Purple Mattress comes as a platform bed. It's incredibly easy to unroll the mattress and to set it up quickly. | Since Purple Mattress is a relatively new company, we don't know a lot about the mattresses' longevity. However, consumers report that it has a strong build. | Where many beds have a 10-year warranty, the Alexander Hybrid Mattress leads other mattress companies by having a lifetime warranty. You still get a risk-free trial of 100 days, and if you don't like it, you can have a full refund. In addition, exchanges and returns are free. |
Alexander Signature Hybrid
No products found.
No products found.
| | Ease of Use | Build Quality | Warranty |
| --- | --- | --- | --- |
| | | | |
| | Like most mattresses, this one isn't difficult to put up. All you have to do is unbox it, unroll it and set it up on its frame. | While over time, the bed can be prone to sagging, it's built with durability and high-quality materials. You won't have to flip the mattress; however, some consumers recommend rotating it regularly to get more use out of it. | Where many beds have a 10-year warranty, the Alexander Hybrid Mattress leads other mattress companies by having a lifetime warranty. You still get a risk-free trial of 100 days, and if you don't like it, you can have a full refund. In addition, exchanges and returns are free. |
Pros and Cons of Hybrid Mattresses
As with all mattresses, hybrid mattresses come with their share of pros and cons. Without full awareness of what the pros and cons entail, coming to a decision will not be easy. ​
Pros
A Variety of Firmness Options Hybrid beds come in several different options. In having a variety, you also get to choose from different firmness levels. If you need an even, stable surface, then you are going to want to get a bed that has a little more firmness. If you aren't a back or stomach sleeper and appreciate softness, then you'll probably choose something less firm.
Comfortable Contouring Contouring is important when it comes to beds. Spinal alignment from contour is important, as is relieving pressure points. This is part of where you get the best of both worlds. You can still have the bounce of innerspring beds while getting the contour you need.
Less Motion Transfer If you share a bed, then you might already know what it's like to have your partner or even a pet wake you up in the middle of the night because they're moving around. Hybrid beds have great motion isolation. Equally, you get the same bounce you'd have from an innerspring bed without worrying about the creakiness or rousing someone else with your movement.
Cooler Sleep While we don't want to be cold while we sleep, no one wants to overheat either. A lot of us like to keep our mattresses and pillows cool to keep our bodies the perfect temperature. Due to the pocketed coil support core, hybrid beds tend to have a cooler sleeping surface.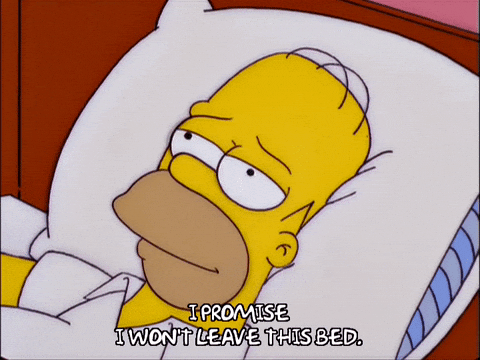 Cons
May Have an Odor The manufacturing process might cause the bed to start out with some odor. This odor is usually only present upon first unwrapping. If you're familiar with foam beds, then you might already know about a similar odor. However, hybrid beds still smell better than foam beds. It's nothing to worry about and will fade after a short time. Usually, it only takes a few hours.
Heavy Manufacturers use a variety of components to make this bed. As you can guess, this makes them incredibly heavy. While this might not be a problem most of the time, if you ever decide to move it, it's going to take a lot of work.
Expensive These beds do their job, and they do them well, so it is no surprise that the market prices them accordingly. Since you are getting the benefit of more than one type of bed, you have to expect it to be a bit of an investment compared to other beds.
Less LongevityA hybrid mattress might last you for about six years. They may last longer when compared to innerspring mattresses. However, when it comes to other types, they do have a shorter longevity. Don't let that get you too down, though. The longevity depends on what kind of polyfoam the manufacturer uses and what grade it is.
Conclusion: Our Verdict
v
via GIPHY
Hybrid mattresses are more than just something to be hyped up about. They are a revolutionary sleep technology that can potentially lead to a better night's sleep. As far as hybrid mattresses go, while some of them tend to be on the pricier side, they are worth it. Your only concern may be how long that they last. As far as brands are concerned, we think that the best mattress is the Alexander Signature Hybrid. Not only is it fairly priced, but you also have a lifetime warranty.
Last update on 2023-06-09 at 21:54 / Affiliate links / Images from Amazon Product Advertising API